Check out what people are saying about OrthoRehab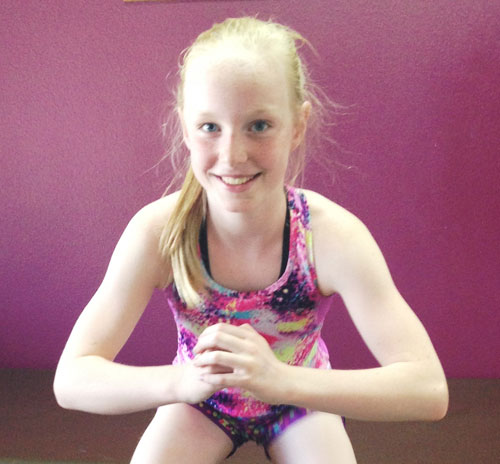 Amelia Mason
The United States Gymnastics Team brought home the Gold Medal in Rio, and on a local level, 10 year old Amelia Mason is earning her own accolades in gymnastics after recovering from a serious Spinal Fracture suffered during practice in January. After seeing a Pediatric Orthopedic Spinal Specialist and spending 4 months in a brace, Amelia came to Ashley Wenz, DPT, Clinic Manager of OrthoRehab's Bigfork Clinic. With Ashley's encouragement, Amelia went through a rigorous core stabilization program and is now pain free, has full strength, and is almost unlimited in her activities. She is back to riding bikes, jumping on trampolines, playing tag with her friends, swimming and even some tumbling. Ashley had the pleasure of getting to know her mom, Lori Mason, who had this to say regarding her experience at ORI: "It was great! Ashley made my daughter's rehab fun! I wouldn't change a thing!" We're proud of you Amelia and are so happy to know you can once again follow your passion for gymnastics!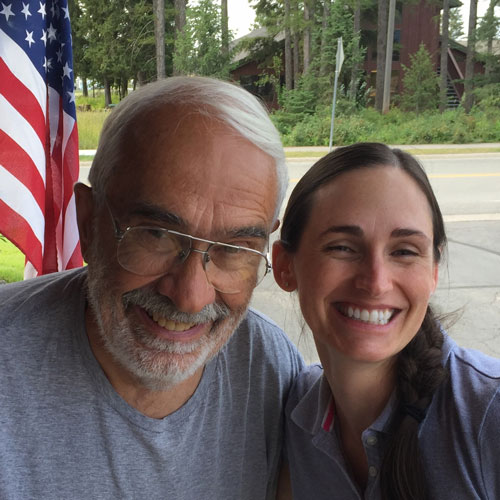 Bob Lawson
At OrthoRehab, we have the honor of treating patients who have influenced the lives of many. One such patient is Bob Lawson, who worked closely with Amy Fischer, MS PT of our Whitefish clinic, while Bob recovered from a Total Knee Replacement surgery earlier this year. Bob, is a well respected, retired Montana State Representative as well as a well loved Whitefish High School Vice Principal, Teacher and Counselor from 1977-1995. Bob had this to say about his experience at OrthoRehab, "I came to OrthoRehab because of my knowledge and respect for Patrick Gulick, because it (OrthoRehab) is a small-local-stand alone operation and contact with Amy's other patients. The front office staff was always positive, professional, friendly & helpful – from Visit #1 to #40…As a patient, I had a super positive experience with Amy and other staff members. I am yet to achieve my full goals, but I will continue to work towards these goals. Amy gave me knowledge, skills & attitude. I would recommend OrthoRehab without reservation…Great job of working with what you had – me!" Bob, you inspired us and those around you every time you came to the clinic for your Physical Therapy. Thank you for your commitment to the healing process and for choosing OrthoRehab!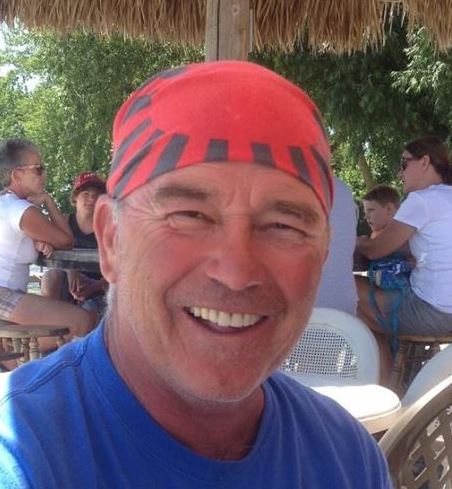 Ron Mogus
It's a bird. It's a plane. It's Superman!" Well, no actually, it's our real life flying patient, Ron Mogus, from our Dillon OrthoRehab Clinic! Unlike us mere mortals, Ron has a career as a High Power Line Man which requires him to be hoisted via helicopter to be affixed to the top of power poles where he hangs from a ladder lifting himself up and down the power poles. Over the past 35 years as a lineman, Ron's hips and knees have taken quite a beating resulting in needing Total Knee Replacement surgery on 1/11/16. Having committed to an intensive Physical Therapy regime so that he could return to work swiftly, Ron worked closely with Kirk Van Slyke, DPT and Charis Harrison, DPT to complete his rehab program within two months. In Ron's wife Carolyn's words, "Both of us know that he would not have been able to go to work so fast without working together (with Kirk and Charis) towards the goal of getting him back to work. They focused on his weaknesses and strengths to build his leg back up. Everyone in the office worked around Ron's challenging schedule, bending over backwards so that he would be able to return to work. They really cared and were concerned and excited that he did so well. We are tickled with the progress Ron made!"
Ron successfully completed his Physical Therapy program 2 months to the day after he arrived shortly after his Total Knee Replacement surgery. Ron and Carolyn, we thank you for trusting OrthoRehab's Dillon office to assist you in achieving your goals for your Physical Therapy! Be careful out there Ron!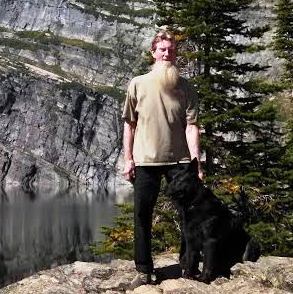 Frank Harlan
I set a goal for myself this past summer to hike to Leigh Lake near Libby, MT where we spend our summers. This is considered to be a difficult hike of 3 miles uphill.
I had spent the previous 5 months going to over 8 different doctors multiple times, trying to find out what was causing a terrible pain in my hip and backside. I even had a surgery to remove some of the metal bracing in my back because one specialist thought this was the problem, but to no avail. I left for Libby in May and through a friend, met Tim Whalen. I took him my doctors reports and xrays. Tim knew of my goals and was not too sure of them happening but gave me some exercises to ease my pain. He told me if I was diligent that I would see some results, so I begin the routine. After 2-3 weeks I started to see results and felt better than I had in over a year. After a couple of months on Tim's regiment, I was able to surprise him with a picture of me and my dog at Leigh Lake. I had accomplished my goal!
I would recommend starting with Tim or if you are not in the area find someone in the same field. Give this process a genuine effort before seeking surgeons for operations. I continue my routine that Tim created for me and my pain has dimenished tremendously and I can live a more active lifestyle. Thank you, Tim for helping me through this journey. "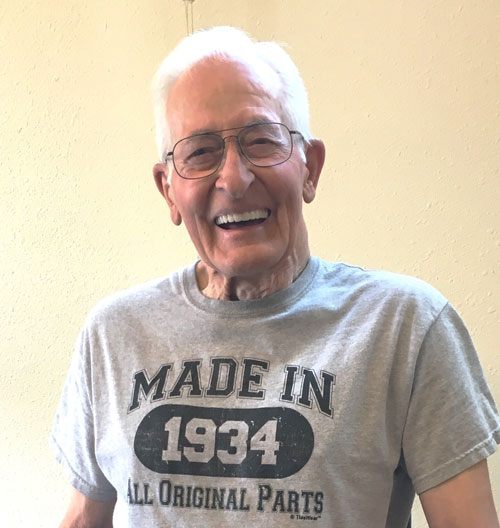 Larry Smith
Meet Larry Smith, who is working on maintaining his "original parts" through Physical Therapy with Tyler Ladenburg, DPT of OrthoRehab's Columbia Falls office. Proudly wearing his "Made in 1934" t-shirt, Larry is all smiles as he continues his PT regime to alleviate his back pain (and retire his walker!). Larry looks forward to being pain-free as he cherishes his family time and especially to continue going for romantic walks with his wife.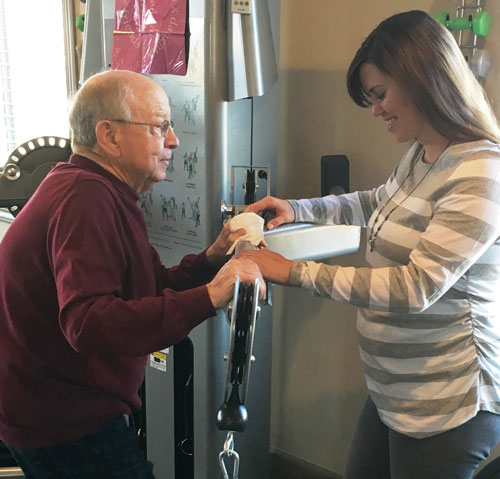 Frank Hull
Frank "Frog" Hull has been a patient of Charis Harrison, DPT, and has bravely been fighting cancer while also enduring many treatments for it. His goal is to walk on his own again. He was a popular English teacher at Beaverhead County High School for many years and he loves to write songs, sing, tell jokes, and play his harmonica. "Frog" had this to say about his Physical Therapy experience, "I give OrthoRehab my highest possible recommendation. The therapists are compassionate, caring, and professional. I am progressing towards my goal of being able to walk without a walker and stand direct on my own." What an inspiration Frog is to all of us at OrthoRehab. Nice job Charis!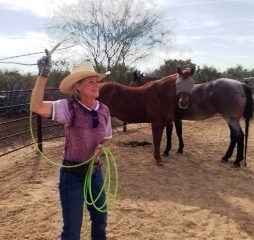 Cindy Lindsey
Winston Churchill once said, "No hour of life is wasted that is spent in the saddle." and we think Cindy Lindsey would agree! Alena Ori, DPT of OrthoRehab's Kalispell clinic worked closely with Cindy during her rehabilitation from a partial thickness Rotator Cuff tear. By being committed to her Physical Therapy program administered by Alena, Cindy's shoulder healed without the need of surgical intervention! Cindy is now back to running a ranch, doing team roping, and fly fishing up in the beauty of Montana's lakes and streams.
Cindy had this to say about her OrthoRehab experience: "My shoulder is feeling strong and pain free and roping is going well thanks to all of your wonderful dedicated care! The exercises and all the good information you gave me has really helped to keep me healthy and happy! I am eternally grateful to you and Kalispell OrthoRehab!!"
We're glad you're back in the saddle again Cindy! Thank you for trusting Alena and all of us at OrthoRehab to help you get back to what you love!!!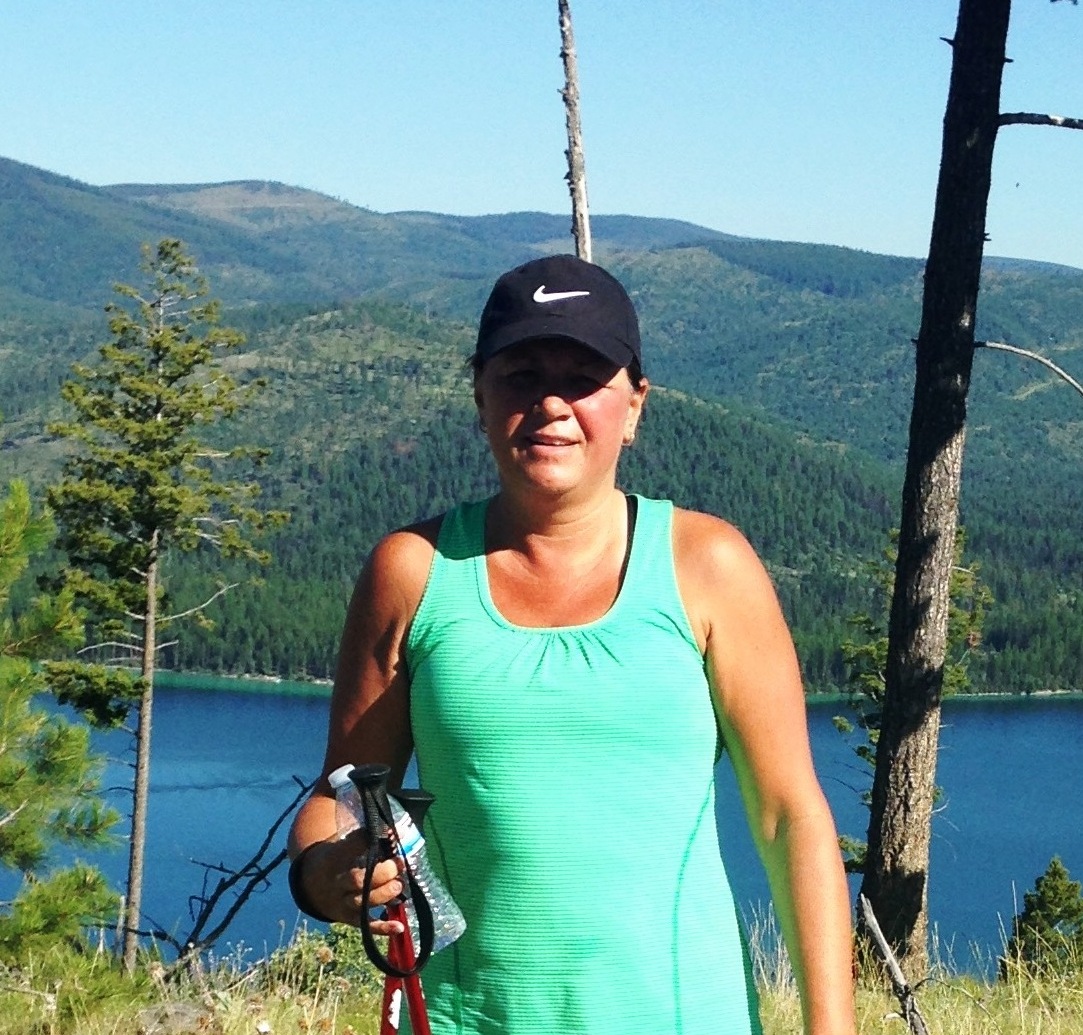 Kris Salonen
Glacier Wolfpack Girls Basketball coach Kris Salonen came to OrthoRehab's Kalispell clinic located in the Flathead Valley Orthopedics Building for her Physical Therapy following a total knee replacement surgery earlier this spring. She had this to say about her healing process with Ben Kingan, DPT in our Kalispell clinic:
"I came to OrthoRehab 2 weeks after I had my total knee replacement on April 13, 2015. I had numerous knee surgeries including 2 ACL repairs and meniscus repairs and removals.
I was not able to do so many things that I enjoy because I had so much damage and arthritis it was getting very frustrating. I was assigned to Ben Kingan post operation and from there I have never looked backed. With the help of Tonia Howe and graduate assistant Robin, Ben pushed me beyond limits that I never thought I could ever achieve. It was 2 and 1/2 months of hard work and sweat and appreciate so much to this day as I finish the most amazing summer of hiking, walking, golfing, and exercising all pain free. I miss all the "eyes" watching over me weekly making sure I am doing all my exercises and working to reach my goals. This is a great team thank you OrthoRehab Physical Therapy.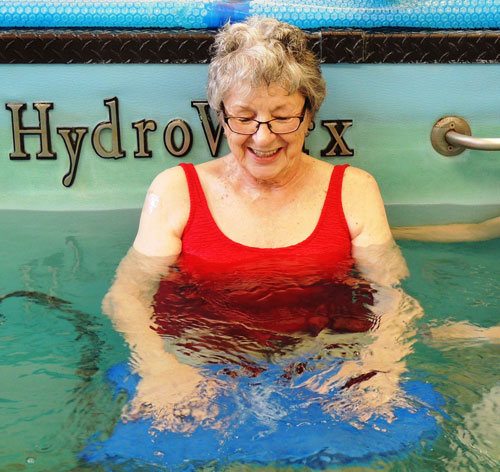 Jean Fischer
It is a pleasure to tell you how much I enjoyed my experience with the staff at The Aquatic & Spine Center at OrthoRehab. I have had chronic spinal problems for many years. A few years ago I contemplated surgery but was told by a neurosurgeon he would not attempt a surgical approach nor would he recommend I let anyone else do so. I have tried a number of other modalities with little or no success, finally relying on medication alone to ease acute discomfort. When I saw an advertisement for the underwater treadmill treatment of back pain, I asked my primary care physician for his advice. He wrote the prescription and I began the series. From the moment I walked through the door, the professionalism was apparent. The receptionist was helpful, courteous and she was dressed appropriately (an issue that has concerned me in other medical offices). An excellent first impression. The therapist and her assistant were knowledgeable about my concerns, made certain I was safe in each exercise and clear in their directions. As the sessions progressed, they encouraged each bit of progress and I felt enthusiastic throughout the entire course of treatment. These therapists have taught me that although I'm at an advanced age, my musculature can still be trained to help support my spinal structure. I have less pain, better stability, can stand for a longer period of time and have more energy than when i began this journey. My daughter tells me I also walk a lot straighter. I would definitely recommend this practice to my family and friends. Certainly I'd return if i had other problems requiring P.T. The toughest part for me now is to continue the work without my mentors.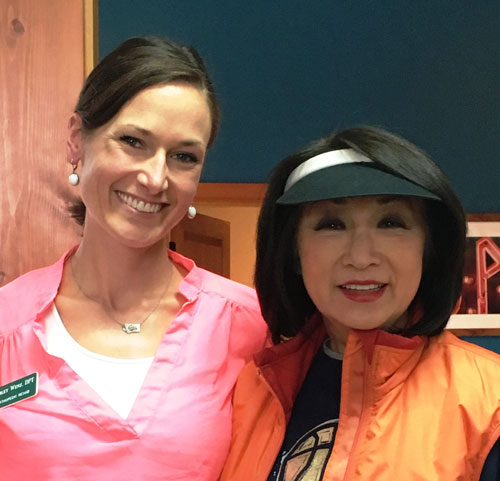 Connie Chung
At OrthoRehab, we have the pleasure of helping a wide variety of patients rehabilitate from the painful physical hurdles life sends our way. One such patient is Connie Chung, a well respected television news anchor who adopted Bigfork as her Montana home. After breaking her shoulder, Connie has been receiving her Physical Therapy treatment from Ashley Wenz, DPT in our Bigfork clinic. Connie is now well on her way to a full recovery and credits Ashley with helping her regain strength, mobility and for her swift recovery after a painful injury. In Connie's words, "My experience couldn't have been better – Ashley Wenz is superb, caring and professional." Thanks Connie! We appreciate your trust and confidence in having your Physical Therapy with Ashley and OrthoRehab!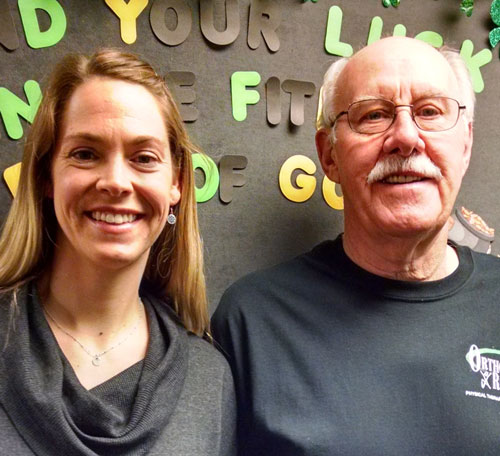 Chuck Clark
Meet Charles "Chuck" Clark, a patient who has been working with Sarah Schmautz, DPT at OrthoRehab in Kalispell rehabbing his left shoulder after a Rotator Cuff tear and surgical repair. He also came to OrthoRehab in 2013 following a Total Knee Replacement surgery. When Chuck began physical therapy for his shoulder, his limitations included a very stiff arm with only partial movement. He is now able to move his arm up and forward with little difficulty with a much wider range of motion. In Chuck's words, "They took very good care of me. I achieved most of my goals. My experience was very positive."
Many of you may know Chuck, who is a native of the valley who worked in the plumbing and heating industry, and as a contractor for 22 years. He was involved with the construction of the addition of Flathead High School, other rural schools and additions, and various motels in the Flathead Valley.
With his shoulder rehab complete, Chuck looks forward to following his love of working in the garden this summer, fishing, and hunting in the fall. Way to go Chuck! Thank you for entrusting Sarah Schmautz, DPT and OrthoRehab with your Physical Therapy rehabilitation!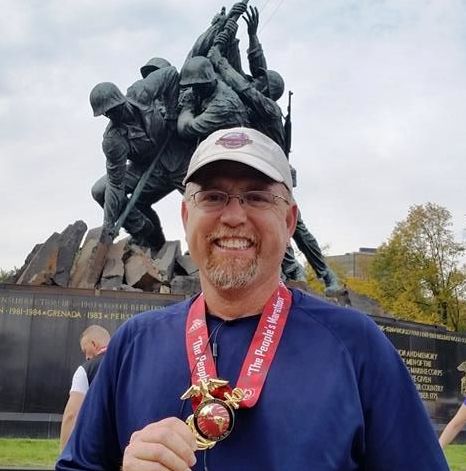 Sean Reynolds
I owe a debt of gratitude to the folks at OrthoRehab in Whitefish and especially Andrea . Early in 2015 my sister and I had talked about doing something for my upcoming 50th birthday, lets run a marathon of course. Which one…. I'd heard of the Marine Corps Marathon in Washington DC, so did the research 32,000 runners and 8th most sought after marathon worldwide, plus once a Marine always a Marine.
After signing up I had a little problem, I was lucky if I could walk a ¼ mile because of neck and back pain that I have experienced from old injuries. This is where Whitefish OrthoRehab comes into play, I was introduced to Andrea when a local Orthopedic Surgeon suggested that while I waited to have my neck fused I try P.T. I was told it probably wouldn't help but may offer some relief till I decided what I wanted to do. So what I've learned in the interim is with a few visits to P.T. once or twice a year I get a new lease on life mostly pain free, and I haven't had to go under the knife.
Now back to the story….when I went to see Andrea the goal was to get me to run a mile. Within four visits I was released, she is a true miracle worker. And I was off and running Forrest Gump style, within a month I was up to six miles, and really thinking I could do this. The Marathon was held Oct. 25 and I was excited to be there, ready or not I was going to do this . With my sister by my side, we joined in the crowd of 32,000 excited/scared runners, with some very motivating speeches about life and running, It's amazing how much they both have in common. With what we were about to do really struck home when the Commandant of the Marine Corps said "It's not a race it's a Marathon, and it's not about winning but finishing, and finishing well" no truer words spoken and wisdom to live by. Boom the cannon was fired and we were off.
This Marathons route sends you through all the Memorials, the Mall, in front of the Congressional building, and so much more. With One Million spectators that come out to cheer you on and the energy that is floating around I knew that I was going to finish this and finish well. When I crossed the finish line at the Marine Corps War Memorial (Iwo Jima flag raising ) I knew that I had lots of folks to thank for getting me here. I didn't do this completely on my own, my lesson in this and I hope others can learn, is even though I'm not a kid and I have been banged around a lot in my life. I want and do live an active life, I am an equipment operator for Plum Creek, not an athlete. I've learned that for me to do my job and to live the life I want I have to be proactive in seeking out the proper Maintenance for my health care. For me Whitefish OrthoRehab has done this and so much more, they have allowed me to live the life I WANT, they have kept me off pain medications and away from the knife!!!
PS I did finish well there were 16,000 runners in my division and I was in the top 1000, for me not too shabby.
Thank you and especially Andrea, for giving me a quality of life that I was afraid was lost.